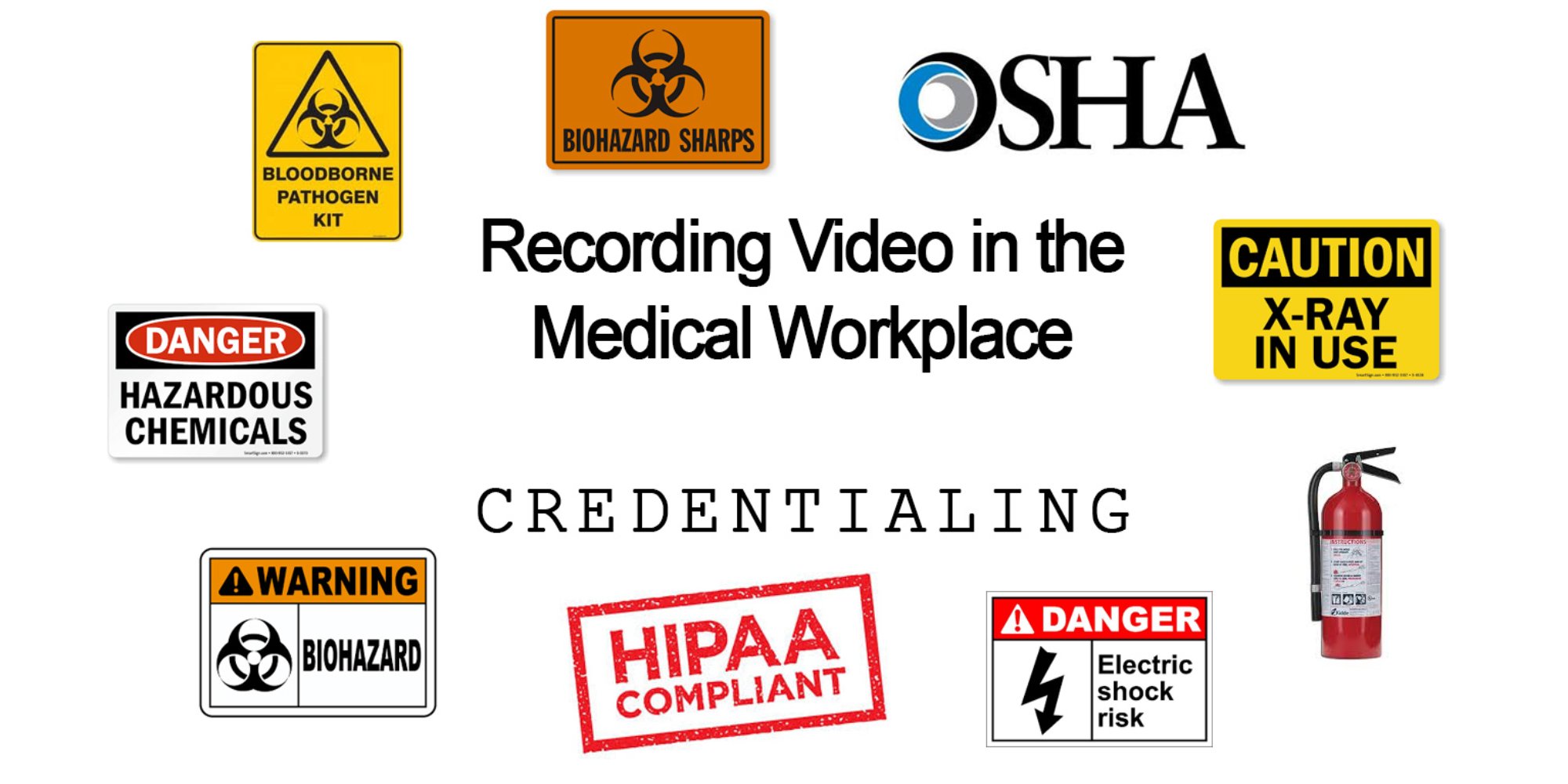 It's more important than ever to be prepared when shooting video at hospitals and medial facilities. The expensive and time-consuming process of medical credentialing no longer just applies to device and pharmaceutical reps. Laws like HIPPA and increased regulations have changed the rules for everyone. Unfortunately the rules are not uniform. The important thing to understand is that it's not simply a requirement for entry into operating rooms and hazardous environments, it could be necessary simply to record an interview. For those not familiar with credentialing, it involves passing a series of tests, documentation of specific immunizations, proof of liability insurance and finally clearing an extensive background check.
To further complicate things, there isn't a single credentialing standard for everyone. In fact, there are three primary credentialing organizations and each one charges different fees and has different requirements. But wait, there's more! Some facilities have their own rules and want you to pass a custom test. It's a bit like credit cards. You go to a store and hand them a Visa card but they tell you we don't accept Visa, only American Express so basically you should be prepared with a variety of cards for different stores.
There is good news. Hospitals and related entities simply want you to be protected from the nasty bits you can be exposed to. Of course the attorneys also want to know they're protected from lawsuits. The key is being prepared. As with any video recording, do your due diligence and ask questions. Sometimes just knowing that these requirements exist is half the battle.
Below is a list of some of the things you or your video crew may need to do/have to comply with medical requirements. We feel really good having been through this process and are happy to share tips and trick for getting through it.
Training classes:
– Bloodborne Pathogens Safety
– Electrical Safety
– Fire Safety
– Chemical Hazards in the Healthcare Environment
– Confidentiality
– Radiation Safety Training
– Ethics and Corporate Compliance in Healthcare
– The Basics of Informed Consent
– National Patient Safety Goals 2018
– Orientation to the Operating Room For the Sales Professional
– HIPAA: What Healthcare Workers Need to Know
– Aseptic Technique and Infection Control For the Sales Professional
– FDA Reporting for Safer Medical Products
– AdvaMed and PhRMA Ethics Codes for Sales Professionals
– HIPAA HITECH: Final Rule Compliance for Business Associates
– ISO 13485:2016 – Requirements for Medical Devices
– Massachusetts Legal and Ethical Requirements For Pharmacy and Medical Device Representatives
– Risk Management and Ergonomics
– Sunshine Act
– TB Prevention for the Healthcare Worker
Required Immunizations:
-Hepatitis A, B & C
-Measles, Mumps and Rubella
-Varicella
-Tetanus, Diphtheria, and Pertussis
-Proof of early TB test
-Proof of annual Influenza vaccine
Other:
Must pass full background check
Can provide certificates of insurance certifying proof of liability coverage