Can't you "just" fix that? A guide to video production glitches.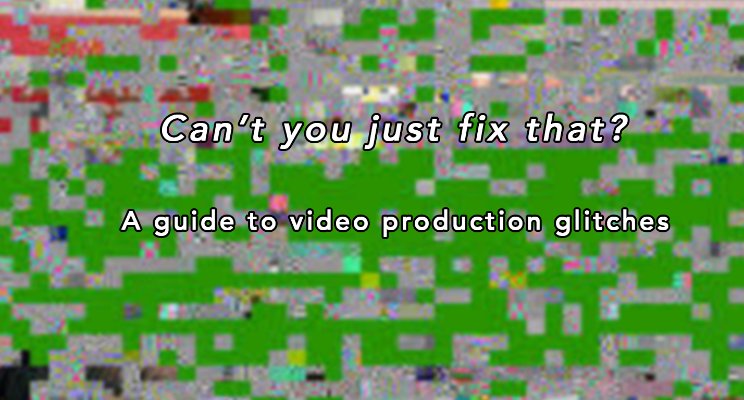 No one is perfect and mistakes happen. Things like low audio, over exposure or blurry footage have happened to all of us. Sadly, there still is no magic button that fixes things. Frequently, you can improve certain problems and make glitches less obvious. We hope the following helps explain some of the challenges and maybe even give life to content that was once thought unusable.
Evaluation:
It you're hoping to have something fixed, take it to a professional and get their opinion. There have been times we've resurrected footage and others where it's just too far gone. Another part of the evaluation is the cost of the fix. It might be fixable but it could take hundreds of hours and/or thousands of dollars to do so.
Bad sound:
The most important part of any video is the audio. If you can't hear what's being said, what's the point? Sometimes, all is not lost. In many cases, the sound level can simply be increased but you may also end up increasing background noise. Excessive Ums and Ahs can often be removed simply by asking your editor to take them out. However if the sound level is recorded too strong (sometimes called "hot" or over-modulated), it may be beyond repair. Distortion in the original audio signal can't be fixed. In extreme instances, people can be brought into a studio and re-recorded but that gets expensive. Another option could be to write a voice over script and have a narrator cover the topics that were communicated.
Bad video:
This is a really broad area when you consider the problem; too dark, too bright, too shaky, too blurry, etc. TV news often still uses bad quality video because it's less about what is seen and more about what is said. A camera person being pushed to the ground by an aggressive politician screaming expletives will definitely get used, as will shaky footage of a spaceship hovering over a military base. What I'm trying to convey is don't always let the quality of your video drive whether or not you use it. There are many ways to hide bad video and still effectively use the audio.
It's preventable!
Many mistakes are preventable simply by using the right equipment for the job. We always encourage our clients to create their own video content when appropriate but it's important they can identify when a job is too big and know when to call in professionals.
Need advice or have an important testimonial to record? Call today and we'll take your worries away (no charge for the rhyme)
978.338.5699