You put links in emails but why not your videos?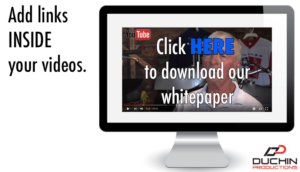 Most of us would never think about sending a business email without adding a call-to-action (CTA) link to a webpage, newsletter or event sign up. BUT, did you know you can embed links in videos as well?  There are definitely some tricks you need to know, but we're here to help. We feel every video should have embedded CTA links to capture interest when your prospects are engaged with your content.
Think about it. Hollywood doesn't promote a film by showing the entire movie. Instead, they build powerful trailers that get people excited about the story and to entice people to go see it. This same thinking applies to your sales funnel. Attract people by sharing the value your products offer and directing them to offers they can take advantage of.
Contact us today and we'll make you a Superhero, blockbuster video that everyone will want to see with tons of embedded CTAs!
jay@duchinproductions.com
(978) 338-5699