Great PR from giving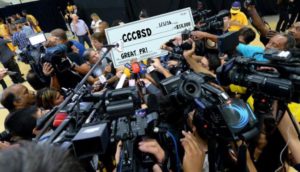 I'm not going to sugar coat it, there will be an "ask" at the end of this post but hoping you hang in and learn why you should give.
We're all assaulted on a daily basis with solicitations for contributions to any number of causes. We're probably desensitized to it all because there are just so many of them. Companies and individuals all give for different reasons. Sometimes it's to get your foot in the door with a potential customer, while other times it's simply because we want to do good.
I've been a Trustee at the Children's Center for Communication/Beverly School for the Deaf for a number of years and it's incredibly rewarding. The annual fundraiser/Soiree is fast approaching. Sponsoring or listing your company in the program book is a prime PR opportunity for you or your company.
The school does phenomenal work helping children with a wide array of communication disorders
You're helping locally. Involvement in your local community shows you're helping to make a difference
Zero controversy. It's not a political campaign, you're helping children
It's solid. This year is the 140th anniversary of the school and you can feel confident that it's a balanced and well-run operation.
The media loves to share photo ops. of those giant paper checks being handed over to worthy organizations.
It's a 501c3 (non-profit) and that means savings on your taxes and building Karma points.
And now the ask. Please visit the website (cccbsd.org) and look at all the wonderful things going on and then consider a contribution to keep the school growing and thriving. Of course if you're already convinced and are ready to give, you can go directly to the Soiree page and make your donation there:
http://cccbsd.org/news-events/annual-soiree-benefit/

Thank you,
Jay