Video captioning can make Google Search Results soar!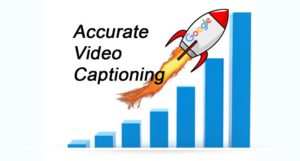 Accurately captioned videos get indexed by Google so words spoken in your videos become searchable content and therefore helps your SEO efforts. We already know Google loves video, and by adding an accurate caption file everything becomes exponentially better for your company's web presence.
BUT!
Don't be fooled by YouTube auto captions. If you've ever turned on auto-captioning, you probably know they are not very accurate. They're so bad that Google will not index these and you get no SEO benefit from all that cost and hard work you put into making your video content.
Here's our easy checklist to make sure your videos are feeling Google's love:
1. Create an accurate caption file with the correct spelling of products, executive's name, websites, phone numbers, etc.
2. Click the captions box on when you upload to Youtube.
3. Added bonus is to copy and paste the transcript into the video description area.
Last but not least, get your sales team ready to start booking business because your sales funnel will be over flowing!
Need a caption file created or help with your next video project? Send us a message to get the conversation started.
info@duchinproductions.com or 978.338.5699