A Font is not a Design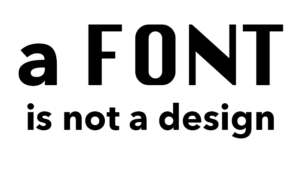 There is no substitute for a great designer. It's always painfully obvious when someone has designed their own collateral. The only people they're fooling are themselves since they're not hiding anything.  Sorry for the bluntness, but it's just plain awful! The same is true for people who "design" their own websites — everyone knows when it's a "DIY." Sure, you might save some money up front, but you're doing irreparable harm to your brand when you go it alone without the proper skill sets and talent.
Using an unusual font or making something bold is no substitution for a professional designer. We strongly believe fonts should be selected to easily communicate your message. Leave font selection to your designer, who'll always choose something way better then you ever imagined and create something great.
At Duchin Productions, we frequently have to make text slides to enhance a video but are not shy when we feel it's necessary to bring in an expert. We're fortunate to work with some extremely talented individuals who always make us look great. And we make sure our clients know when we bring in a designer. We believe in full client transparency to build trust and confidence.
Need a GREAT designer, give us a call and we'll be more than happy to introduce you. Need a great video team? Contact us today, that's where we come in.