How to Make Big Facebook Page Images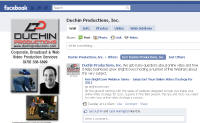 Facebook works great with video however we wanted to share with you a non-video tip. One of the goals of our blog is to offer general marketing tips in addition to video suggestions and ideas.
Have you ever wondered why some profile images are tiny and others look downright enormous? Well there are some hidden secrets for maximizing you Facebook Page that we're going to share with you.
Let say someone gave you a giant billboard to put your information on, completely free of charge. Instead of using the entire space, you just upload a tiny logo. Facebook actually allows you to place a pretty big profile image up but many don't understand how to do it. The unknown secret is you can place a 200 x 600 pixel image up there. To get an idea how big that is, take a peek at our FB page:
http://www.facebook.com/pages/Duchin-Productions-Inc/73069796717
The image can be anything you can think up. Designers are great at placing all kinds of information in challenging size requirements. Consider adding, hours of operation, phone number, cool colors etc. Bringing in a professional writer can make a huge difference with your FB page. We often work with Solidus Editorial Solutions, who not only write great original copy, but can also tweak existing content. "In today's world, you only have microseconds to make an impact. A combination of good copy and graphics can quickly differentiate you from the competition," says Steve Boudreault, managing partner of Solidus. This is a great, simple way to differentiate your page from everyone else on Facebook.
As always, we're just a phone call away if you get stuck or want some ideas. We also work with some great graphic designers and would be happy to pass their information along to you. We believe direct relationships allow for better communication plus an added cost savings to the client. Many video production companies will mark up these services and try to pass them off as their own but we don't and have never done that. Our goal is to focus on video production however we will manage outside vendors if that's what a client wants. Let us know if you've found this helpful and what other topics you might be interested in learning about.